2019 Tips To Choose The Best Vinyl Flooring in Malaysia
2019 Tips To Choose The Best Vinyl Flooring
There are a lot of vinyl flooring options available in Malaysia. But mostly they are 2 types which are popular these days.
In tile or plank form & available in 2 to 5mm thickness. 2 or 3mm thickness are dry back which needs glue to install. For 4 to 5mm thickness mostly popular in the SPC click system.
If you don't mind glue down on your flooring & a minor gap after several months & looking for a budget, then 2 or 3mm dry back is most suitable. However, if the floor is not self-leveled or smooth or has existing ceramic tile, 2mm may not be suitable to use since you will see those unlevelled floors or line mark after installation. Also, 2mm has more issues of shrinkage over time compare to 3mm. So 3mm always a better choice even the price is slightly expensive.
4mm SPC click is recommended on an existing ceramic, wood floor or self-leveled floor. Easy to install & glue is not required. If the floor is not perfectly leveled, we do recommend to go for 5mm thickness SPC flooring for more stronger click performance over time.
In all vinyl flooring, floor leveling is important for the perfect finish. A good floor base will give you worry-free vinyl flooring experience for a long period.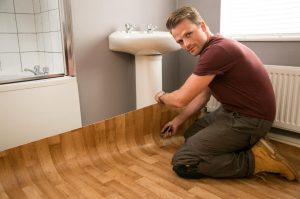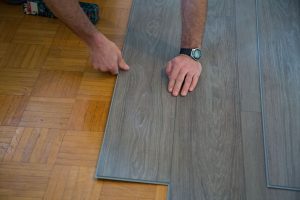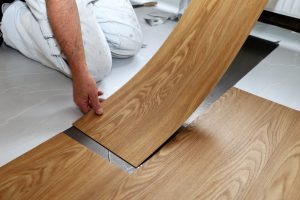 The top wear layer also plays an important role in choosing vinyl flooring. If you have high traffic & wearing shoes to walk it's always advisable to use at least 0.3 top layers in vinyl flooring. For housing 0.1 layer still, consider good enough to use for a long time.
A life span of vinyl flooring is about 10 to 20 years if install properly & maintain well.
Colour Selection: Since vinyl flooring is printed paper design, there is a lot of modern design available beside the wood pattern. It's available starting from white to any different color in wood grain or marble, percaline texture. Choose the best color that you think suitable for your home matching your wall color or furniture. Accessories color playing an important role too for matching with the vinyl color, so the right combination of floor & accessories may provide you peace of mind & satisfaction on selecting vinyl flooring. 
Price range: A good quality vinyl flooring range from RM 2.00/sqft to RM 6.00/sqft for supply only. Including installation, it may go up to Rm 4 to 10/sqft. It all depends on what type of vinyl you are choosing. We don't recommend buying low-quality vinyl. Since this is the floor that you will step every day & you may need to replace your floor frequently if the product quality has issue & installation not done properly.
Check out our vinyl flooring price here.